What Team Bonding Means to Picnic People
Ever notice how some other event planners talk about corporate team-building events? They'll put together an agenda that they're convinced will "really bring your team together!" But it winds up feeling forced or inauthentic, like management or HR planned the event solely for the sake of doing so.
This is where Picnic People really stands out. Our creativity flourishes in taking "ordinary" corporate team-building events and tossing the word "extra" in front of it. Others will give you a company kickball game at the park down the street. We'll give you a three-legged company kickball game at NTC Park with a giant barbecue cookout. They'll give you a dunk tank. We'll give you jet skis on Mission Bay. See what we mean?
If not, here's a fun little guide to hopefully clear things up. This is what team bonding means to Picnic People and our clients.
Team Bonding Means Fun!

It's our central value and the driving force behind everything we do here. It is all about the fun. It is all about being wacky, unconventional and completely off the wall. Picnic People team-bonding events are ridiculously fun occasions. That distinguishing element makes our events memorable. How do we do this, you ask? Simple—by not taking ourselves too seriously! There's less structure and more leisure. The fun and authenticity of our experiences mean our team-bonding events can build genuine relationships, loyalty and trust naturally. It doesn't hurt that these are the kind of activities that (in all likelihood) you're only going to experience on this kind of scale with us.
Team Bonding Means Food!

While our concept of fun drives us, our mastery of fantastic picnic food sustains us. We hang our hats on serving delicious picnic food and a bodacious barbecue menu all year round. But our distinguishing factor here isn't the food itself. It's the combination of the food and activities together. Sure you're going to have a company "rodeo" and wild west-themed team bonding extravaganza. But in between the lasso tournament and costume contest, you're also going to chow down on some succulent BBQ ribs that fall off the bone. Afterwards, the combination of the two is all anyone is going to be talking about in the office.
Team Bonding Means Friendship!

It may not seem like something you hear discussed much in the context of other event planners. But that's both how and why we stand out. The friendships that emerge from our team-bonding events transcend the workplace. Our brand of relaxed fun accomplishes the goals of rewarding your team and creating workplace connection. Those rewards are both intrinsic and extrinsic. Our events are designed to maximize participation by creating an even playing field. Creativity and collaboration come more naturally with us. We cut through the bureaucracy of the workplace and make the experience of team bonding seem more human.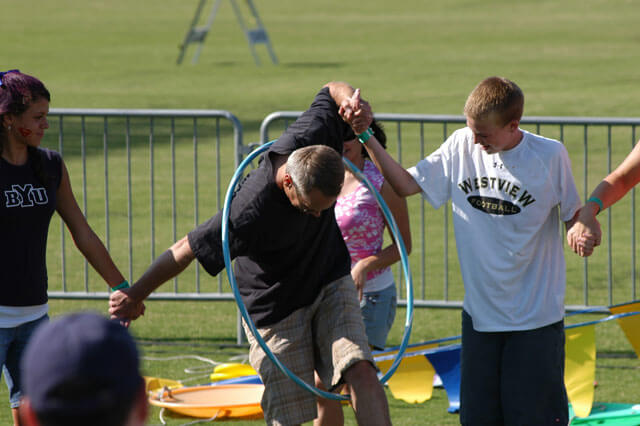 We believe team bonding should be more than the goal of coming together to boost productivity. For our group, team bonding is both the destination and the journey. Activities should be fun and easy for guests of any age or skill set to pick up. Events should feel comfortable and call on everyone to participate naturally. Management can see their employees working, communicating and collaborating. It's an active experience whose result is a team more dedicated not only to your business but to each other as well.
If you're looking for a fun and memorable team-bonding picnic event, then give us a shout online or call our expert planners at 858.586.1717.
More articles you might enjoy: